Ducati Team starts Valencia weekend well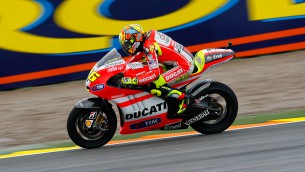 The first day of the GP de la Comunitat Valenciana started off well for the Ducati Team, with Valentino Rossi and Nicky Hayden riding comfortably in the wet conditions that marked both free-practice sessions.
The teammates posted the third and fourth best times of the day, respectively, their fastest laps coming in the morning session. Conditions were slightly worse in the afternoon, and all of the MotoGP riders lapped more slowly. Forecasts for tomorrow and for Sunday's race are uncertain, although conditions are expected to improve slightly.
Nicky Hayden:
"This was actually the first time I've ever ridden the GP11.1 in the wet, and I was really happy with how it felt. The track was extremely slippery. We came from Malaysia and Australia, where the surface would dry in no time, but here, even when it would stop raining, it just wouldn't dry. The grip was really low, especially on corner entry, but we made a few steps through the day that seemed to help. I'm not going to lie; it would've been nice to end up in P1, even though it's just Friday afternoon, but we spent a lot of time at the top and put up quite a few red helmets (the monitor's indication for a best time in a sector or lap). We'll see what the weather does tomorrow, but regardless, we got some good information."
Valentino Rossi:
"Our bike works very well in the wet, so this morning I was able to push and to stay up there near the front. In the afternoon we had a few more problems because we made a mistake with the rear setting. I couldn't manage to find grip under acceleration, or to ride the bike well like in the morning. I should add that we're a bit on the limit regarding the asphalt conditions, because it's very worn and has terrible grip. The rain and the cold make it worse, and it's very difficult to ride. We'll have to see how to proceed throughout the weekend, because if it stays wet, we could do pretty well. If it improves, we'll have to see how we are in the dry.
( Source : www.motogp.com/en/news/2011/valencia+ricardo+tormo+ducati+rossi+hayden )